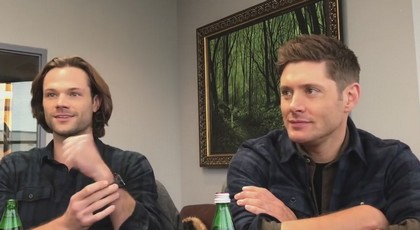 Some journalists were lucky to get to Supernatural Set to interview Jared Padalecki, Jensen Ackles, Alexander Calvert and others.
The interviews and articles will be posted in this thread. Spoilers ahead!
SUPERNATURAL: Jared Padalecki, Jensen Ackles & Alexander Calvert on the Upcoming Reunion and the Cowboy Episode
Watch the Video:
Also watch the Outtakes:
Castiel reunited with the Winchester brothers on this week's SUPERNATURAL and the angel will be delving into a case with Sam and Dean in the next episode. He'll also get a chance to meet Jack for the first time since his birth. Once that meeting happens, the group will head to Texas to investigate a case and fulfill Dean's obsession with everything cowboy related.
During a visit to the set of SUPERNATURAL in Vancouver, we spoke to Jared Padalecki (Sam Winchester), Jensen Ackles (Dean Winchester) and Alex Calvert (Jack) about the reunion with Cas and what's to come in the next episode.
How Important Are the Winchesters? Before moving on to the next episode, we noticed that Billie brought Dean back from the dead this week because, according to her, Sam and Dean are "important". We've always known that the Winchesters are crucial to the fate of the universe, but does Billie know something now that we don't? Jared and Jensen aren't yet sure. "We haven't really found out why just yet," Jared explained. "We know we're important for some reason, but true to SUPERNATURAL form I think it will be a surprise to Sam and Dean and Jared and Jensen. I think the brothers have always felt like they have a higher cause and a greater calling, so I think they're looking forward to figuring out exactly what it means."