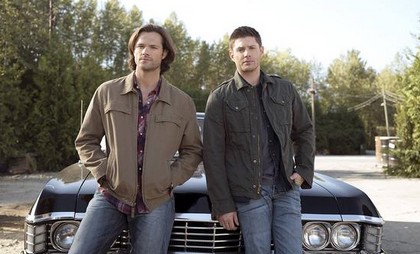 TVLine has an especial article about tomorrow's Supernatural Episode. 11.04 "Baby" featuring the actors Jared Padalecki and Jensen Ackles.
Be aware, the article is spoilery regarding the episode.
Supernatural Stars on Impala-Run Hour: 'We Never See the Boys Do This Stuff'
From day one of Supernatural, there have been three stars at the center of the series: Jensen Ackles, Jared Padalecki and the Winchesters' beloved '67 Chevrolet Impala. It's only fitting then that the brothers' mobile homebase finally gets it own episode this Wednesday (The CW, 9/8c), appropriately titled "Baby."
The unique hour is told entirely from the vehicle's perspective, allowing for a different peek at the hunters' lifestyle during a job and the quiet moments in between. For example, one scene features a particularly poignant talk between Dean and Sam as they slumber in the car, for which Padalecki was especially excited.
"When I read the script, I was like, 'We never see the boys do this stuff. I can't wait to see it,'" he recalls during a recent visit to the show's Vancouver set. "That should be something we do more often. We usually have the come-to-God [moment] in the middle of this library or something… But what a cool glimpse into the Winchesters and how they travel. We're not getting a motel every night. It's going to be, 'Hey, don't want to waste the money, crash in the car and wake up and head out.'"
Telling this week's story from the Impala's point of view also meant switching up how the show is filmed. "It was the first ever in 200-something episodes that we shot like that," Padalecki says. "It was a brand new style."
Director Thomas J. Wright, a veteran of Smallville and Millennium who was Alfred Hitchcock's storyboard artist, rigged cameras to the car. Meanwhile, a member of the sound crew rode in the Impala's trunk in a bucket seat. (Check out sound mixer Donald Painchaud's video below.)
"We've done things that have for us seemed similar to that, but certainly have never shot an entire show like that," Ackles describes. "So there was a bit of a learning curve, and once Tom figured out how he wanted to do it, then it was just getting used to that setup."
"A lot of stuff, I think, caught us off guard," Padalecki adds. "But we just rolled with the punches and a little bit of improving" — such as the boys singing a classic tune! — "which is always fun."
With all the screen time the Impala gets in the installment, it's no surprise that Jeff Budnick, the show's picture car coordinator, says, "That was the busiest [episode] I've done in 11 years. We had all eight cars working."
And like the Winchesters, "Baby" also takes a few hits. There was "blood everywhere," Budnick shares. "The cars that I had to repair from that episode, five of them had to get new headliners because of the cameras ripping through the headliners. We had to put carpets in and the glass got cracked. It was a lot of work to get them back to normal."