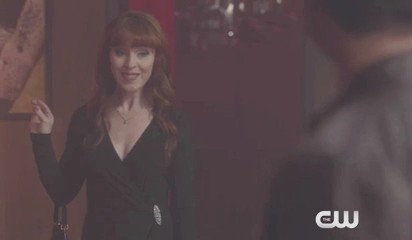 The site Seat42f has an exclusive interview with the actress Ruth Connell, who plays the new character Rowena, introduced in the episode 10.03 "Soul Survivor", directed by Jensen Ackles.
Be aware of the spoilers.
EXCLUSIVE : Shining the Spotlight on SUPERNATURAL's Ruth Connell
While new to American audiences, Ruth Connell is about to cast a spell a whole new fan base as she makes her big debut on SUPERNATURAL this season. Briefly introduced in the episode "Soul Survivor," Ruth returns in the upcoming November 25th episode entitled, "Girls, Girls, Girls." So look for her to stir up some trouble for the Winchester boys while turning few heads and perhaps turn up the heat in more ways than one.
In an exclusive interview, Ruth talked about how much fun it is working on the long-running adventure series that explores the dark side of Heaven and Hell.
What can you share about your particularly bewitching character on SUPERNATURAL?
RUTH: I play Rowena and I can definitely tell you that she is a witch, and I don't know what else I can say. There is such a sense of mystery about the show and I am under such strong warnings about spoilers! I will say that Tuesday's episode has a great surprise in it and you may be seeing more of me after that. So that is about as much as I can say.
Read the whole interview at  Seat42f