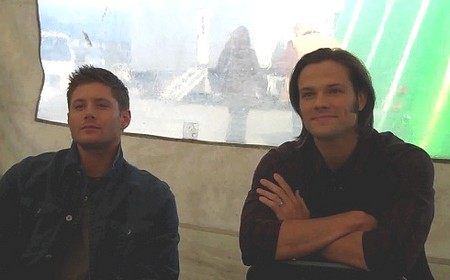 Laura Prudom, from huffingtonpost.com went to Supernatural Set posted the Second Part of her interview with Jared Padalecki, Jensen Ackles and Sera Gamble.
'Supernatural': Jensen Ackles And Jared Padalecki On Castiel's Return And The Winchesters' Upcoming Meltdowns
This week's "Supernatural" sees the return of Misha Collins' fan-favorite (yet divisive) character, Castiel. During a recent visit to the show's Vancouver-based set, HuffPost TV discussed the reintroduction of Castiel with the series' frontmen Jensen Ackles and Jared Padalecki.
The charismatic actors also delved deeper into Sam's breakdown and where the latter half of the season will take the Winchesters. They dropped a few hints about what we can expect from their characters in upcoming episodes and on the introduction of a female hunter who has a romantic history with both Sam and Dean (lucky her!). We also caught up with executive producer Sera Gamble, who wrote the Castiel comeback episode, via phone to talk about the big episode and those to come, including some updates on the new and recurring characters we can look forward to seeing in the weeks ahead. Tread lightly, there are spoilers ahead.
HuffPost TV: Jensen, we know that Cas is going to come back as a healer, and that Dean goes to him for help with Sam, so can you tell us about their interactions in this episode, especially since it sounds like Cas isn't going to remember who he is?
Read the answer of this and a lot of more questions HERE, please