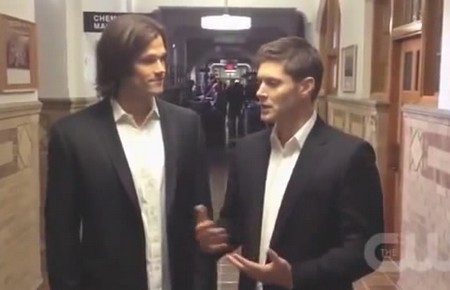 Laura Prudom, from huffingtonpost.com went to Supernatural Set last week and got the chance to talk to Jared Padalecki, Jensen Ackles and later, with Sera Gamble.
This is the first part of the interview she did with them. Be aware of the Spoilers!
'Supernatural': Jared Padalecki and Jensen Ackles Interview About Sam and Dean From Set
Now that The CW's "Supernatural" is in its seventh season, one might expect the cast and crew to be feeling fatigued and simply focusing on the paycheck (the writers even turned the show's longevity into a running joke in last season's deliciously meta installment, "The French Mistake.") But thankfully, the passion and dedication of all involved seems to be just as pronounced now as it was in earlier seasons as HuffPost TV learned last week during a visit to the set of the cult hit.
Jared Padalecki and Jensen Ackles sat down with HuffPost TV for an in-depth discussion about their characters and the progression of this season's narrative, illustrating how engaged they are with the material by speculating about possible storylines, and taking time to thank their dedicated fanbase for their ongoing support.
Since the pair has a tendency toward being misquoted in interviews, I've tried to present their answers in their entirety. I also had the opportunity to chat to executive producer Sera Gamble via phone to add a little context — although this close to the season finale, the show's secrets are being closely guarded. We'll have more from Ackles, Padalecki and Gamble over the next couple of weeks, but this should whet your appetite for the March 16 episode (9 p.m. ET on The CW) and the character arcs to come.
Jared, you've played so many different facets of Sam over the years, from blood-addicted to soulless to what we have now, kind of slowly losing your mind — how do you approach these different aspects of Sam in terms of preparation?
Padalecki: I found out early on that I needed to keep as open a mind and opinion as possible. Unlike a movie, a TV show is such that you read something one episode and it's completely different a couple episodes later — you really have to be able to go with the flow. You know, movies, you have the whole script, and then you have two months to do it. So you know where your character goes. You know where you start, you finish. With a TV show you don't know if you're going to go for the rest of Season 1 or even after the pilot and then for Season 2 or Season 3. You have no idea where it goes so you just try to play it as real in the moment as possible, and luckily, on a show like "Supernatural," we suspend our belief on an episode-by-episode basis. We're not telling a story about guys in high school and this does not take place in reality. So it's easy, and our fans ebb and flow with us and have a lot of fun with us. So, I just try to be true to the story at hand.
Jensen, we know Sam's going to go completely nuts in episode 17, and Dean's made it pretty clear that he's only really still fighting and functioning for Sam's benefit at this point, so where does the episode leave Dean emotionally?
Ackles: Well, luckily for these characters. they've seen quite a bit. They've been through quite a bit, both with each other and with themselves. So there's an obvious bond between these two characters in the way that, if one of them is out of sorts, if one of them is going off the deep end, if one of them is struggling in any way, the other one is affected. So you obviously will see it affect Dean. How it affects him, it depends. We've seen Dean drink a lot this year. We've seen him just kind of have a lack of motivation in a sense — which has been kind of different year-to-year. You go back to Season 1 and Dean was really the motivating force in that one, wanting to find dad. Then you switch to Season 2 and the roles kind of change: Sam becomes the motivating factor in wanting to understand why all this is happening to him. So, those factors always kind of differentiate between seasons and between story lines, between scripts even. So you'll see Dean obviously looking out for his brother. He wants to do everything he can and he always understands that he's got to stay as strong as he can in order for his brother to continue on the straight and narrow.
There is a lot more. Please click HERE to continue reading the actor's interview and then Sera Gamble's.