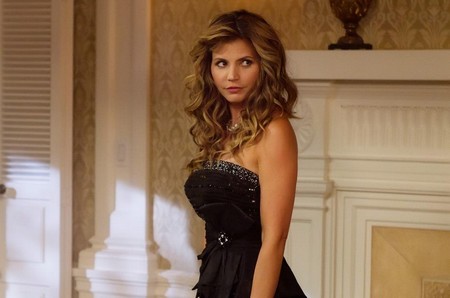 TV Guide has up an interview with Charisma Carpenter.
Charisma talks about the show, her roles and very nice things about our favorite guys, Jensen Ackles and Jared Padalecki.
Buffy's Charisma Carpenter: Working on Supernatural Was Super Tasty
Charisma Carpenter fell under the Supernatural casting department's spell when they asked her to play a witch, but the real magic happened once she found out who would play her on-screen husband.
"I got a call from my manager saying that there was interest from Supernatural inviting me to do an episode," Carpenter tells TVGuide.com. "I thought that was a great idea and went forward with it. And then I found out after that James [Marsters] was going to be part of it too, and then it just got super tasty."
The former Buffy the Vampire Slayer and Angel co-stars reunite on Friday's episode, "Shut Up, Dr. Phil" (9/8c, The CW), in which Carpenter plays a witch named Maggie Stark. "I hadn't played in that genre in a while, so I thought it would be a good time," says Carpenter. "She's a very powerful witch but disgruntled. She's also involved in some sort of artistic and philanthropic work. That's her passion outside of her marriage."
When the town of Prosperity, Ind., is hit with a string of grisly deaths, the Winchester brothers put on their best G-Men personas to investigate. They track down Maggie's husband Donald (Marsters), who claims that she's taking her anger out on the townspeople for a mistake he made. "I don't know how much I'm allowed to say, but he's a force to be reckoned with," says Carpenter. "We've been married a super-duper long time and with that comes some problems and comedy."
Although Carpenter and Marsters have a shared TV past, working on Supernatural was the most time the two had actually spent together in the same scenes. "James and I were sort of in it together, you know?" says Carpenter. "This wasn't our show. We were sort of guests there and so it was a lot of fun to be in it together, trying to learn Romanian in lickety-split time and trying to make our fans happy."
Speaking Romanian — which Carpenter says is a bit of a spoiler about the couple's back story — proved to be easier for Marsters, who had put on a British accent for his Buffy vampire character Spike. "He has quite the gift and ear for music and for language," she says. "He did a fantastic job, and every now and then I'd look at the translator and hope that I was fulfilling the pronunciation properly. Judging from the expressions on the translators' faces, it was really kind of funny, but I was definitely alienating Romanians left and right. I don't think many viewers who watch speak the language, so I'm kind of counting on that."
Luckily, Carpenter had the help and support of series stars Jensen Ackles and Jared Padalecki, whom she can't seem to praise enough. "They were willing to hold up our cue cards for us when we had to do our Romanian," she says. "They were so cooperative and so helpful. You always hope people you work with will be nice, but they were just over the top. And I really enjoyed seeing them interact. They have great chemistry together and they were individually in their own right very talented. In this episode, Jensen had a lot of humor. He has that psychobabble speech that he delivered that was really funny."
In a way, she feels that there's a certain kinship between Supernatural and the Buffy/Joss Whedon-verse. "There are similarities: They have that very unique brand of humor and supernatural, drama and special effects. I think that there is a given understanding or appreciation for one another because of it."
Supernatural airs Fridays at 9/8c on The CW.
Source: TV Guide