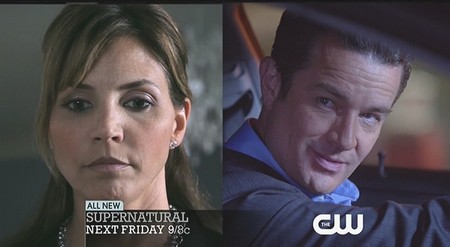 Danielle, from Examiner.com has up an interview with the actress Charisma Carpenter.
Charisma talks about her role, James Marsters, Jared, Jensen, the Set and more.
Charisma Carpenter gets & gives 'Supernatural' relationship advice
It's from one iconic, fan favorite series to another for Charisma Carpenter! The Buffy alum spent some time up in Vancouver this summer filming a very special guest starring role on Supernatural, and from what she told us about her "Shut Up, Dr. Phil" appearance (with a title like that, you know it's going to be good!), the episode itself is sure to be iconic all on its own.
Last we saw the Winchester Brothers, Dean (Jensen Ackles) was just put on trial for his sins, and though he is out of the defendant's hot seat, his heart is still heavy about a lot of things. Dean was always the hunter who was quick to gank first and ask questions later– or maybe even not at all. We saw that most recently just two episodes ago with Sam (Jared Padalecki)'s childhood crush who turned out to be a monster of her own. Yet here he takes the "Dr. Phil" approach with Carpenter's Maggie Stark, a witch scorned who is unleashing her wrath on an entire town when she learns her husband (guest star James Marsters) has strayed outside the marriage.
"Maggie– she's a little bit of a jealous girl and has to manage her temper a little bit, and that's tough to do when you're a powerful woman with a lot of witchy behaviors and spells to be cast and stuff. If you get her in a bad mood– she's just the wrong person to make mad! Cordelia would make you suffer, but [Maggie] will make you suffer and die," Carpenter laughed, referencing the Buffy role that made her famous and which has shades in her new Supernatural role.