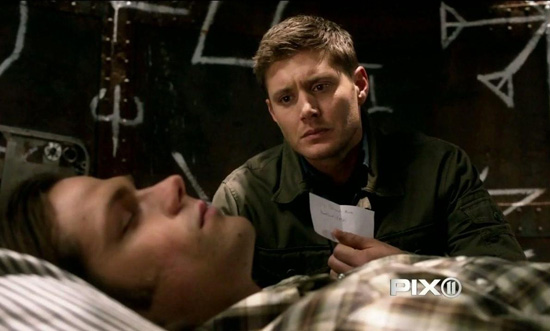 It seems that Lucifer words made some people confused over what happened in the last season. This week Megabuzz help us on that:
Please tell me everything that's happened over the last two seasons of Supernatural is not just in Sam's head, as Lucifer indicated in the premiere. — Marsha
NATALIE: Relax! "We're not like Lost," executive producer Bob Singer promises. "Or the end of the Sopranos," Sera Gamble quickly adds. It's safe to assume that the walls are actually coming down, driving Sam to go crazy, rather than the alternative, which would, well, piss everyone off. "Our intention is not to raise that to mess with people's heads," Gamble says. "It becomes pretty clear what [Lucifer's comment is] about in Episode 2, which is primarily concerned with answering questions about what's going on with Cas and getting really deep into what's going on with Sam." Whew, putting my pitchfork and cauldron of boiling oil away now.