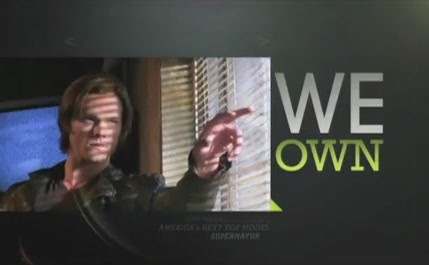 Thanks to TV Addicted and TVline we have a bit of more info on the episode 7.05 "Shut Up, Dr. Phil", the episode with the two special guest stars.
From TV Addicted, posted today (Thursday 18th)
Although I applaud your recent commitment to a weekly spoiler column, Ask the Addict has been missing one crucial thing over the course of the past few weeks: SUPERNATURAL scoop. So how 'bout it? — Julie
The TV Addict: Suffice it to say, there's a very good reason why Ask the Addict has been somewhat devoid of SUPERNATURAL scoop. That reason, the fine folks at Warner Bros. Television tend to keep an extra tight lid on story lines emanating from that SUPERNATURAL writer's room. Luckily for you, we did a little extra snooping this week in an effort to dig up some scoop that goes a little something like so: White it probably won't come as much as a surprise that those clever SUPERNATURAL writers continue to tap into the cultural zeitgeist du jour, what just might is the subject of their jabs. Which is to say, early episodes of SUPERNATURAL's seventh season will not only poke fun at Newsweek's recent controversial cover gal, but the fifth episode of the season will be entitled "Shut Up, Dr. Phil."
Thanks to Matt, from TV Line we know their names:
Here's one little vittle that didn't quite make it into my genre-gasmic exclusive about Buffy/Angel alums James Marsters and Charisma Carpenter guesting on the fifth episode of the CW series' seventh season: The names of the husband and witchy wife they're playing are Don and Maggie Stark. And that, now, is all I got!