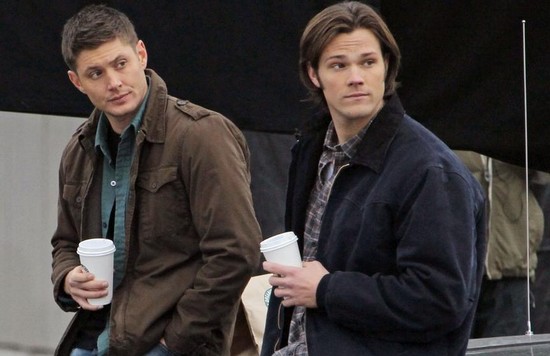 The lucky girls Naficeh and KJNeely were on set today.
Look at what they have to share with us.
Be aware of the spoilers, of course.
Read it:
Supernatural is currently filming episode 15 of season 6. It's called "The French Mistake".
The episode is the one about Sam and Dean in an alternative universe as Jared and Jensen.
Most of the scenes so far have been at the studio set of Bobby's house. The scenes may or may not be in order.
Here's a quick overview of some scenes in the episode:
CAST:
JARED PADALECKI: SAM/JARED
JENSEN ACKLES: DEAN/JENSEN
MISHA COLLINS: CASTIEL/MISHA
SEBASTIAN ROCHÉ: BALTHAZAR
BRIAN DOYLE-MURRAY: BOB SINGER
GENEVIEVE CORTES: GENEVIEVE
There are some scenes set at Bobby's house. They may or may not be in order.
They are in a TV show called Supernatural on the set version of Bobby's house. They are in TV land, there is some digital static and Dean has makeup on. Sam and Dean quit the show.
Some other random scenes are also being filmed. Castiel is not Cas, but instead he is Misha. There are scenes involving him and a character named Virgil. Their interactions might not be so pleasant for Misha…and that's all I'm gonna say…