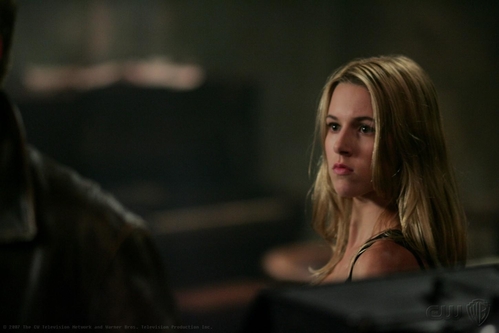 The site Support Supernatural has up a new interview with the actress Alona Tal, who played Jo Harvelle.
Alona talks about Supernatural Set, celebrating her birthday on the Set, her role on the show, if she thinks that the show should have more females, her carreer and much more in this spoiler-free interview.
Read it…
lona Tal is such a breath of fresh air. We are really excited that she allowed us get to know her a little better through this interview. Alona is many things: a great actress, a lovely woman, an animal lover and a kind soul. Read on…
SSN: Please tell us a little about filming "Abandon All Hope." How did it compare to the other five Supernatural episodes you've been in?
Alona: Filming "Abandon All Hope" was really memorable! It was a really special episode for me, both 'cause I got to celebrate my birthday with everyone and also I got to celebrate it while shooting my dying scenes. Kind of weird but so exciting at the same time (they'll agree) and being back after so long to kick some ass is always fun.
SSN: How did you feel about the way Jo and Ellen went out in "Abandon All Hope"?
Alona: I always felt that if Jo were to die it should be doing something worthy. And so I was happy. I mean, I wasn't happy about dying but I found it to be a challenge as an actress not to mention that in all actuality, its my job. To do what the writers and producers believe to be the best thing for the show, and do it to the best of my abilities. I was happy with the result and from what I saw and heard so were the fans. So I'm happy.
SSN: What skills did you learn from being on the Supernatural set that you didn't have before?
Alona: How to "pretend fight" a guy that's 6'4 and weighs three times what I weigh. No, just kidding. I learned a lot about a whole lot of different things. One was how to fire a leaver action shot gun. I have experience with fire arms but not with many shot guns and this one was very different. I liked it. Also I had a short encounter with a knife. Had to learn how to mess with it and look cool and all. That was tought. Cause its such a skill. You really can't pick it up in one week. Those are just a few among many skills I have learned from being on the show.
SSN: We had a fan in Australia ask: How do you do a great scream on-screen? I love acting but have never been able to scream appropriately.
Alona: THAT'S SO FUNNY!!!! I could not scream! It was one of the hardest things I have ever had to do. Simply because Alona does not scream. I say bad words very loudly. And so I would be the worst person to ask about on screen screaming. I try to avoid them at all costs.
SSN: Do you think Supernatural should have more female influences on the show? What impact on women do you hope Jo had?
Alona: Of course I think they should have more female influences. And have them be good and not evil and demony and all that. Its only real to have women be around that are just like the boys. But that's just me. As for the second part of the question- oh I don't know. All I know is I tried to make her strong but with a whole lot of vulnerable sides. Like a real woman would be. Sometimes pretending to be tougher and less sensitive than she is but ultimately always an emotional creature. Like I believe women are. Connected to our emotions more than men. And I wanted to show how great it is to have both of those sides and how you can BE all those things. And grow as a woman and learn form tough things that happen to you. Wow, that was sort of deeper than I had intended.
SSN: What was the most rewarding part of being on Supernatural?
Alona: Meeting every single person I got meet thanks to being a part of that world. I learned so much.
SSN: Can you compare and contrast acting in Israel and acting in the U.S. and Canada?
Alona: I believe good acting is good acting where ever you are in the world. There are some universal truths that translate to every society. The only main differences are in some mannerisms and social habits that each society has that you can only know about after spending some time in each place.
SSN: You seem very grounded. How do you deal with the ups and downs of being an actress?
Alona: I have an amazing support system to come home too. And that's really it.
SSN: What television shows do you watch religiously?
Alona: I love "Greys anatomy", and I'm kind of addicted to "True Blood", but who isn't?
SSN: What, if any, television shows would you like to be a guest star?
Alona: "True Blood" and "Greys Anatomy".
SSN: Who inspires you? Have you ever had the chance to work with or meet him/her?
Alona: There are two women I truly love and admire in this industry- Meryl streep and Natalie Portman. Meryl can just do no wrong in my book and to work with her would be a dream. And Natalie, I haven't had the chance to work with or meet but I'm hoping that since we are both Israeli that maybe that would change sometime.
SSN: Which TV/movie character you would like to bring to life (if you could) and why?
Alona: Beatlejuice. Just cause it amuses me.
SSN: How did you get involved in the narration of "Blessed is the Match"? What was the experience like for you and what did you take away from it?
Alona: I was actually supposed to be a temporary voice for the film and I'm not really sure how they got to me seeing as I had never done any voice work prior to that film. But after a while I was asked to stay and finish the narration for Hannah. I was so honored seeing as she is such an iconic woman in Israeli history. And also because the people who made this movie are people I respect and admire. I also found her (Hannah) to be a beautiful soul and to be able to breath life into the words she wrote whether to her family or just to herself in her poems was unforgettable. If I could play her in a movie that would really be a mind blowing experience for me. I can only wish for a chance to do that.
SSN: IMDB says that you have a few new projects in the works. Could you tell us a bit about Kalamity, Undocumented and Night of the Living Dead: Origins?
Alona: All I have to say is just wait and see. They are all worth the wait. All three movies are different and excellent. I have not seen any of them finished and I'm not sure how much I can reveal.
SSN: Do you have any pets and if so what kinds and what are their names?
Alona: I have two blue nose pit bulls. A girl and her name is Chochi and a boy and his name is Pork.
SSN: How did you find your pet (pet store, rescue, breeder)
Alona: They were both rescues. There are too many dogs than need me to save them so I couldn't go and buy one.
SSN: Do you have any personal experience with any animal rescue organizations? If so please share a story.
Alona: I don't have any stories. All I can tell you is that if I could save a dog from each foundation on the planet – I would. But one can dream.